SUBJECT: JASON MARTINEZ
AGE: 22
LOCATION: BOSTON, MASSACHUSETTS
OCCUPATION: MIT STUDENT / TI MECHANICAL DESIGN ENGINEER / UNDERWEAR MODEL
1991 Honda CRX Si
Winter 2004
This was the CRX in the Massachusetts winter just before I bought it. Its got one tiny rust spot, which isn't bad for having lived in the northeast for the past 13 years. Unfortunately the entire exhaust system up to the manifold was rusted out too. It sounded like any typical fart-can outfitted rice burner. The right side hood hinge pivot pin was also broken but not that big of a deal (the hood stayed on during velocities in excess of 100 mph). But it had only 100k miles and all maintenance was done according to schedule.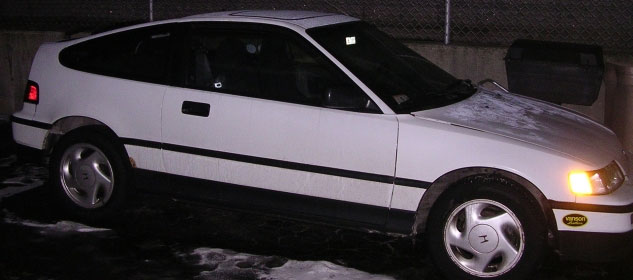 June 2004
On my way out to Raymond, Ohio, to work at honda R&D for the summer no less, my poor crx was introduced to wildlife for the first time. Being from southern California I didn't understand about driving through the woods of up-state NY at night. Well at around 1-2AM I was getting back on the road from a stop at Denny's, tooling along in the fast lane doing around 70. All of a sudden this deer who thinks he owns the road leaps out from the thicket running directly into the driver's side front fender of my car. His head slammed into the windshield probably killing him upon impact and shattering the windshield. Sorry, no pics of the deer. But I did back up and see him on the side of the road in a pool of blood, eyes rolled back in his head. Sad, very sad.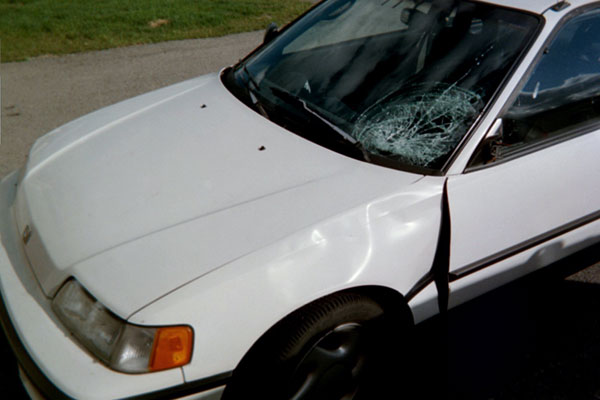 If you look close you can see a chunk of deer flesh stuck in the weather stripping on the side of the windshield. Hint: its the little furry brown thing.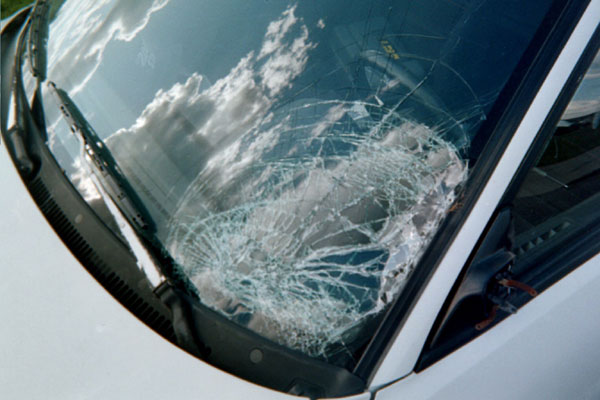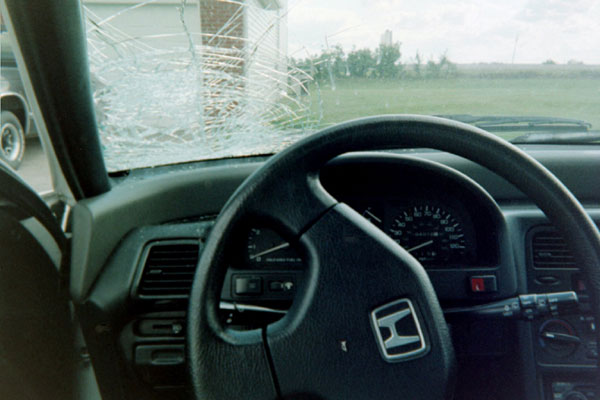 Over the summer I did manage to put some 15" Integra LS rims on it along with some nice Yokahama summer tires to improve the handling. I've also got a set of Eibach Sportline springs and new rear lower control arms in the trunk. I only need to get some good dampers so that I can put it all together.
Summer 2005
Since I'm working in Boston now I've had time to do some work on the CRX. Its now sitting on Eibach Sportlines and Tokico Illuminas. Wow, the car feels like it is on rails compared to before. I've got a pair of Mugen trailing arm bushings for the rear which I'm sure I overpaid for because apparently Honda is now offering these bushings again. Did my own alignment with some strings, it was easy. I had installed a short shifter, and wow, nice... "like a glove!" But it was a cheapy from ebay and it proke when power shifting into 5th at high speed provoked by a BMW. Oh well, you get what you pay for, next time I'll bet a true billet machined piece.. or make my own? I want to pick up a new fender from certifit and paint it up but I can't justify spending $100 on cosmetics. **shrugs**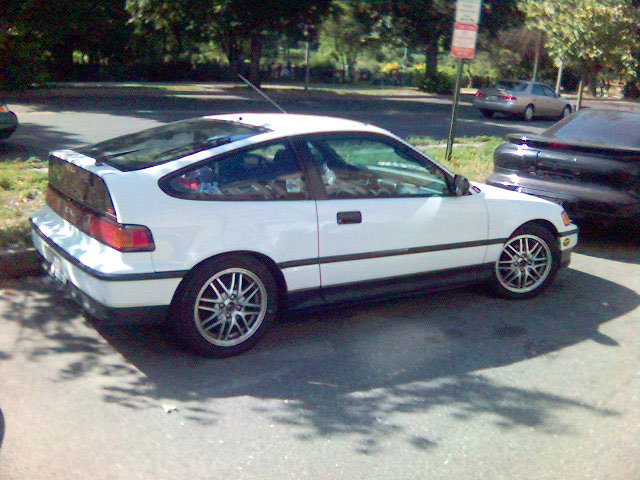 I can't even open the door when I'm next to that curb!